While researching a Permaculture Cooperative [blog] [video] in the summer of 2009 we visited Mondragon Cooperative [video] [photos] [blog] and enjoyed a day-tour of the cooperative, which included a factory tour and a lunch, history and business workshop. This video presentation includes an oral history from the days of the founder Don José María Arizmendiarrieta as the oldest farmers son and revolutionary journalist to the modern cooperative. Photos of the cooperative headquarters, the historical museum and the town of Arrasate.
Photo Credits: Kirstie Stramler and Nicholas Roberts
The oral history if given by Mikel Lezamiz who is the educational director of the Mondragon Cooperatives Corporation, the world's largest consortium of worker-owned businesses located in the Basque Country of Northern Spain. Lezamiz is one of the most knowledgeable sources on the history and current operations of Mondragon's 120 worker-owned businesses.

We went to Mondragon to research a Permaculture Cooperative: a global network of sustainability worker cooperatives. The Mondragon Permaculture.TV collection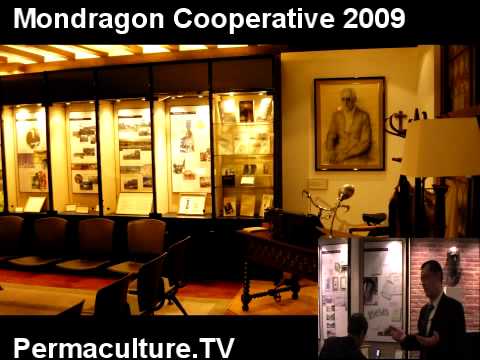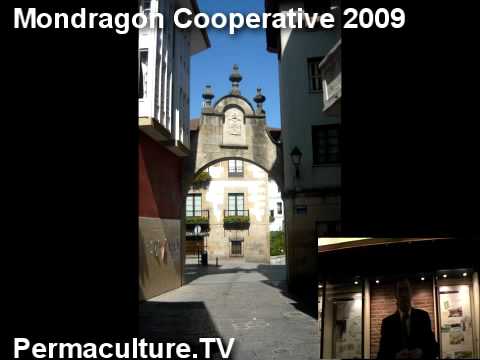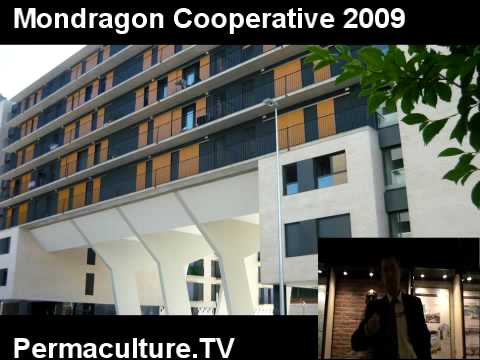 To jumpstart US job market, turn workers into owners
Many Americans build wealth through their home. Why not through work?
In hard times like these, the co-op model makes sense. After all, public confidence in corporations, banks, and the larger financial system is at low ebb, while unemployment is at its highest level in 25 years. Homeownership, historically a reliable way to build equity, has been rocked by foreclosures. People are looking for other ways to do business and save money.

Many people think of co-ops as the hippie-dippy grocery store that sells organic goods. In fact, a 2009 study by the University of Wisconsin Center for Cooperatives found more than 29,000 cooperatives in the US, which make $500 billion in annual revenue, support 83,000 people, and pay $25 billion in wages and benefits. They include national firms such as credit unions, and local businesses such as the Alvarado Street Bakery in Petaluma, Calif., or the Evergreen Cooperative Laundry in Cleveland.
Source: Christian Science Monitor
Bringing Mondragon to America
by Chris Lindstrom on September 09, 2009
These core principles help provide the cooperative members with basic guidelines for working together in a cooperative environment, to commit themselves to personal development, teamwork, participatory management, joint projects, social entrepreneurialism, and finally, corporate excellence. The role of the Management Model is not just to make managers responsible for the success of their cooperative, but how to get workers to take on this responsibility and enthusiasm as well. It is not my impression that they have achieved this 100%, but I think that for an industrial community, they have perhaps set the highest standard for honoring worker rights than any other place in the world. However, this remains only to exist within the Basque region and has not spread in any major way to the multitude of companies that have come under MMC ownership in the past couple years.

The MCC claims that they are being very mindful of the environment by doing things such as reducing their carbon emissions in all of their cooperatives. While, in certain areas they were undoubtedly far ahead of countries such as the US, they were not quite as active in areas of sustainable agriculture. Agricultural production as a commercial sector simply was not as much of a priority as residential goods or the retail of non local food products. So it can be safely said that the MCC is by no means perfect. However, it provides one of the most sophisticated institutional examples of a truly egalitarian and socially just economic system.
Source: Economics of Peace
Mondragón and the United Steelworkers/ New opportunity for the co-op and labor movements?
B Y E R B I N C R O W E L L
Here in the U.S., we have sewn many of the seeds of such a cooperative economy. For example, food co-ops have been partners in the success of worker co-ops Equal Exchange and Alvarado Street Bakery. Food co-ops and others have created loan funds, such as the Cooperative Fund of New England and Northcountry Cooperative Development Fund, that support cross-sector co-op development. We have worker co-ops that have integrated union representation, such as Collective Copies, and examples of multi-stakeholder co-ops, such as Weaver Street Market and FEDCO Co-op Seeds, that bring workers and consumers together within a single enterprise. We have international management training programs such as the St. Mary's University Master of Management: Co-operatives and Credit Unions, and cross-sector organizations such as the National Cooperative Business Association. And we have a growing awareness that "co-operation among co-ops" is not just a principle but a key competitive advantage.

In this context, the agreement signed by Mondragón and the United Steelworkers is much more than a piece of paper. For unions, it's a new opportunity to explore the human and economic potential of cooperative ownership, rather than settling for adversarial relationships with capitalist enterprises. For worker co-ops, this may be an opening to deepen solidarity with organized labor through new and innovative structures. And for the cooperative movement as a whole, we have an opportunity to reassess our assumptions about the role of workers, the meaning of membership, and the potential for engaging employees in nonadversarial settings characterized by shared ownership.

Multi-stakeholder co-ops, highlighted by Mondragón's astonishing success, would seem to offer a promising area for exploration among co-ops in the U.S. These structures contribute a uniquely cooperative approach to labor relations that would strengthen our competitive advantage in an increasingly challenging global economy.
Source: Cooperative Grocer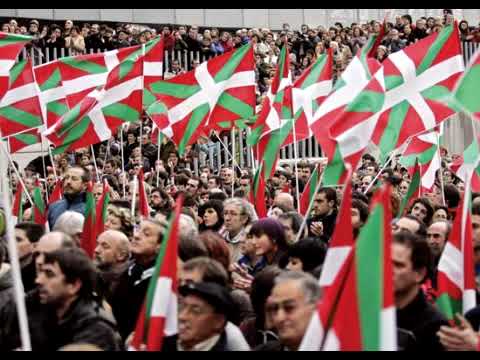 Mondragon Permaculture with Bill Mollison
In the Mp3 audio of Bill Mollison 1983 PDC (Permaculture Designers Certificate) in Stanley,Tasmania (Geoff Lawton attended) that are available as DVD for sale and on the internet, Bill Mollison talks at length about the Mondragon Cooperative (along with Commonworks etc) as an organisational framework – a natural order of People Care and Fair Share for Earth Care that permaculture projects ought use.

I actually found and listened to these Mp3's just before we went to Mondragon (such is life!). We really did Build The Road as We Travel (the only book on Mondragon that we saw on tour). Also, re-reading the Permaculture Designers Manual 1988 he has a couple of references again to Mondragon in the Alternative Nation section towards the end of the book.
Source: Permaculture.coop – Notes on Mondragon & Permaculture, GaiaPermaculture.com