In Transition 1.0 from Transition Towns on Vimeo.
An Evolving Exploration into the Head, Heart and Hands of Energy Descent
---
In Transition 1.0 is Now Available!!
In Transition1.0: from oil dependence to local resilience

Available now as a Special Edition 2 Disc DVD set!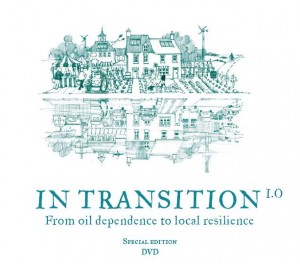 'In Transition' is the first detailed film about the Transition movement filmed by those that know it best, those who are making it happen on the ground. The Transition movement is about communities around the world responding to peak oil and climate change with creativity, imagination and humour, and setting about rebuilding their local economies and communities. It is positive, solutions focused, viral and fun.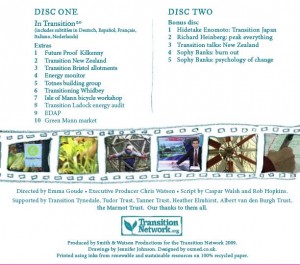 'In Transition' has been shown in communities around the world to enthusiastic audiences, and is now available as a special edition 2 disc DVD set, beautifully packaged in entirely compostable packaging, featuring the film itself (with subtitles in Deutsch, Español, Français, Italiano,and Nederlands) and an embarrassment of outtakes and extras, with interviews, films about Transition you've been searching high and low for quality copies of, and other gems. It is a must-have for anyone with an interest in this new take on responding to the challenges of the 21st century.
Source: Transition Culture