organic
Exposing the organic eggs industries scrambled priorities, from The Cornucopia Institute: Organic Egg Scorecard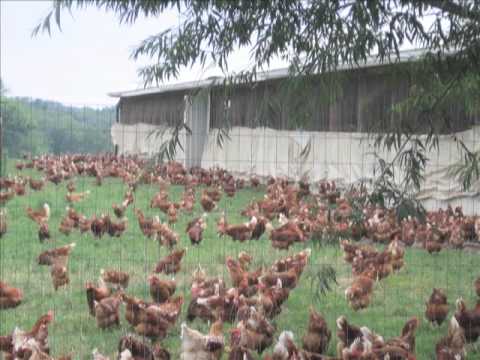 GROW! Movie Teaser from Anthony-Masterson on Vimeo.
Selected clips from our in-production documentary GROW!, the sequel to FARM!, our short documentary about young, organic farmers in Georgia.

With GROW!, we will revisit the farmers and find out what has happened in the two years that have passed as well as interview new farmers that have decided to try farming.
Permaculture production systems are highly suitable for South Africa
Afristar Foundation was founded in 2001 as a South African NGO focused on the design and implementation of sustainable development programmes.

Our mission is to educate, train and engage the people of Southern Africa in the development of sustainable models for ecological human settlement and local economic development that facilitate the ethics of care of people, care of the earth and returning the surplus.

Our aim is to inspire communities to work towards creating sustainable settlements that harmonise human activity to create natural wealth and great abundance for all.
Source: Afristar Foundation
Any genuine solution to climate change requires a transition from industrial agriculture into sustainable family farming.
Industrial agriculture is responsible for more than 50% of emissions; from conversion of forest into mono-culture plantations, high use of fossile fuels to run tractors, machinery, and transporting food among cities and continent, etc. On the other hand, small farmers' sustainable agriculture contributes to the reduction of emissions and keeps the carbon in the soil.
Speakers include Jahi Chappell, Cornell University.
Executive Chef Dale Hart takes you behind the scenes at the Radisson LAX, where he and his team create an Organic Thanksgiving meal to go
This how-to video by the nonprofit group Kitchen Gardeners International shows you step-by-step instructions for successful organic composting.
Source: Kitchen Gardeners International
Philip H. Howard, PhD is Assistant Professor, Department of Community, Agriculture, Recreation and Resource Studies at Michigan State University
Source:
Dr Phil Howard
I teach undergraduate and graduate courses in Community, Food and Agriculture, as well as a graduate course in Research Methods.

My research focuses on the 'food system.' The food system involves all of the steps required to produce food and get it to our plates–from farming and processing to distribution and consumption. My work is unified by three main questions:

Source: Dr Phil Howard

What changes are occurring?
What are the impacts of these changes on communities?
What can communities do to respond positively to these changes?

..
I currently have three main projects:

characterizing consolidation in the food system, particularly in the rapidly growing organic sector
exploring inequalities in 'food environments' and their potential relationships with health outcomes
studying consumer interest in 'ecolabels' as a potential strategy for improving the livelihoods of small- and medium-scale farmers
Source: Dr Phil Howard Homepage
Source:
Dr Phil Howard
A North Carolina farmer tells his story

John Vollmer's comments to the Sustainable Agriculture and Foods Systems Funders Conference June, 2009

I was born and grew up on a farm near Bunn, NC, and until the 1980's the economic anchor for our farm was tobacco. So it was for my daddy and granddaddy all the way back to Washington Duke and the founding of the American Tobacco Company in Durham in 1881. For over 100 years tobacco has been the mainstay of small farms just like ours in NC, SC, GA, VA, TN, and KY.
Unhooking from the tobacco wagon
In the 1980's, however, things were about to change. During this 80's decade, while serving as the president of the NC Tobacco Growers Association, I had a light bulb moment. We U.S. tobacco growers were not going to win the public relations and political battle that we were engaged in. Regulations and restrictions were coming. Competition from Brazil was eroding our worldwide market share. Public opinion and medical science were on the side of anti-tobacco activists. If our small family farm was to survive past my generation, we had to change how our farm worked and functioned. We had to unhook from the tobacco wagon.
Betty, my wife and business partner and I looked at many ideas. Our first new crop to grow was pumpkins. We offered school tours and sold pumpkins both retail and wholesale. Bear in mind we were still tobacco growers at heart and in practice. This was just a small step toward the change that we would have to make.
Source: RAFI-USA
In the early 1990s, John Vollmer, a third-generation tobacco and small grain farmer, knew that the outlook for tobacco farming was bleak. Between cuts in tobacco quotas, cheap imports and increased regulations, tobacco farming no longer made economic sense. "My main goal was to keep the farm in the family for the next generation," Vollmer said.

For Vollmer and his family, that meant "unhooking" from tobacco production and being open to new techniques as they kept an eye on the practical aspects of making a living.
"In 1992," he said, "we looked at strawberries and saw they were a very good crop." Moreover, Vollmer had seen the number of farms dwindle in his area from about 250 in the 1970s to just 30. He realized that organic production might provide a means to keep the farm viable. Finally, after learning of the Environmental Protection Agency's plan to eliminate methyl bromide for disease control, Vollmer decided that organic was the way to go.

Heartened by the fact that scientists at North Carolina State University were focusing on organic production to help make farms more profitable, Vollmer started asking for help.

"The extension agents would come to the farm and tap on my head lightly," he said of their effort to introduce him little by little to the concepts of organic farming. "They'd leave an article on the counter about how chemicals might affect earthworms, and eventually it would sink in."

Vollmer strongly recommends that other growers move into the process gently, and build up the soil through compost and cover crops. "I knew my soils were in the same condition as everyone else's – basically sand with a little bit of nutrients and everything burned out. If I was going into organic, I knew I better put something in."
Vollmer also recommends that farmers thoroughly evaluate what specific equipment they will need for organic farming. In his case, tools such as plastic mulch and drip irrigation helped bring about a successful transition. Now, Vollmer finds organic strawberries easy to grow because the plastic mulch and drip irrigation help with both weed and insect control: The plastic helps conserve moisture, keeps soil disease off plants and helps eliminate spider mites. (The plastic provides a solid layer off which he can use a high-pressure sprayer to bounce insecticidal soap onto the bottom of the leaves.)
While Vollmer does not farm all his fields organically, he has been so persuaded by improvements to soil quality, pH and water-holding capacity, that he applies many of the same techniques, such as compost and cover crops, to his non-organic fields.
Vollmer finds great success from direct marketing, and does not wholesale any product. "Every time we wholesale, we get beat up," he said. He and his family direct market all of their fresh market vegetables and fruits through five farm stands and at the farm. Bringing people to the farm provides entertainment for families and a boost in profits for Vollmer. On the farm, he and his family offer "u-pick" strawberries and sell strawberry ice cream and strawberry shortcake.
Source: VollmerFarm