Can collective intelligence save the planet? "It's the only hope we have," says Prof. Thomas Malone, adding that "no one really knows whether we'll succeed."
Collective intelligence is a shared or group intelligence that emerges from the collaboration and competition of many individuals and appears in consensus decision making in bacteria, animals, humans and computer networks, Wikipedia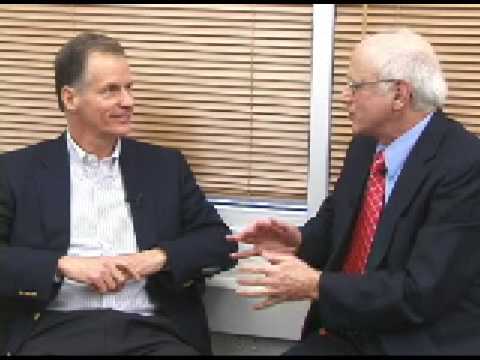 Brain Power

Malone — who is "basically an optimist" and believes that in the end, we will probably make choices that will, in fact, save the Earth — is the Patrick J. McGovern Professor of Management at the MIT Sloan School of Management and is director of the MIT Center for Collective Intelligence.

But for what purpose?

"Well, in some sense, that's the most important question of all," he says. "In the next few decades, we will be making choices that will profoundly affect many future generations." Perhaps, he says, even our survival as a species will depend on how well we're able to make choices that are not just smart, but also wise.

"If we want to make wise choices, we need to think more deeply about the world we want to create. And those answers can't be found by logic or politics or economics," he says. "Ultimately, they can only be found by looking within ourselves."

To participate in the Climate Collaboratorium, visit http://www.climatecollaboratorium.org
Source: MIT Spectrum
How to Build a Collective Intelligence Platform to Crowdsource Almost Anything
The MIT Approach to Collective Intelligence
According to the Center for Collective Intelligence, a good collective intelligence platform (CI) must address the following themes:

Goals, referring to the desired outcome;
Incentives, referring to the motivational factors;
Structure/process, referring to the business model and organizational structure to complete the task; and
Staffing, referring to the people required to support the business model and sustainability of CI within the organization.

These four themes then translate into the following four questions:

What is to be accomplished?
Why should anyone help out?
How are they meant to contribute?
Who will perform the necessary work?
Source: Noah Raford, Large scale participatory futures systems
Derived Source: Mapping the Genome of Collective Intelligence
Mapping the Genome of Collective Intelligence
Google. Wikipedia. Threadless. All are well-known examples of large, loosely organized groups of people working together electronically in surprisingly effective ways. These new modes of organizing work have been described with a variety of terms—radical decentralization, crowd-sourcing, wisdom of crowds, peer production, and wikinomics.1 The phrase we find most useful is collective intelligence, defined very broadly as groups of individuals doing things collectively that seem intelligent.

By this definition, collective intelligence has existed for a very long time. Families, companies, countries, and armies are all groups of individuals doing things collectively that, at least sometimes, seem intelligent.

But over the past decade, the rise of the Internet has enabled the emergence of surprising new forms of collective intelligence. Google, for instance, takes the judgments made by millions of people as they create links to Web pages and harnesses that collective knowledge of the entire Web to produce amazingly intelligent answers to the questions we type into the Google search bar.
Source: Mapping the Genome of Collective Intelligence
The Handbook of Collective Intelligence
This Handbook provides a survey of the field of collective intelligence, summarizing what is known, providing references to sources for further information, and suggesting possibilities for future research. The handbook is structured as a wiki, a collection of on-line pages, editable by their readers.The handbook is hosted by the MIT Center for Collective Intelligence, but we hope that researchers and others from around the world will contribute to it. The process of creating this handbook could itself be an example of collective intelligence.
Source: The Handbook of Collective Intelligence, MIT
Wikipedia
According to Don Tapscott and Anthony D. Williams, collective intelligence is mass collaboration. In order for this concept to happen, four principles need to exist;

Openness: Sharing ideas and intellectual property: though these resources provide the edge over competitors more benefits accrue from allowing others to share ideas and gain significant improvement and scrutiny through collaboration.

Peering: Horizontal organization as with the 'opening up' of the Linux program where users are free to modify and develop it provided that they make it available for others. Peering succeeds because it encourages self-organization – a style of production that works more effectively than hierarchical management for certain tasks.

Sharing: Companies have started to share some ideas while maintaining some degree of control over others, like potential and critical patent rights. Limiting all intellectual property shuts out opportunities, while sharing some expands markets and brings out products faster.

Acting Globally: The advancement in communication technology has prompted the rise of global companies at low overhead costs. The internet is widespread, therefore a globally integrated company has no geographical boundaries and may access new markets, ideas and technology
Source: Wikipedia: Collective Intelligence, Dimensions
Collective Intelligence 2 hour panel:
Moderator: David Thorburn
Thomas W. Malone, Alex (Sandy) Pentland PhD '82, Dr. Karim R. Lakhani SM '99, PhD '06
October 4, 2007
Running Time: 2:00:40

Can human beings, with the help of smart machines, not merely avoid "collective idiocy" (in Sandy Pentland's words), but actually achieve a degree of intelligence previously unattainable by either humans or machines alone? These three panelists study the possibilities from different angles.
Source: MITWorld video