bill mollison
This interview is done by Frank Aragona, on the Agroinnovations Podcast.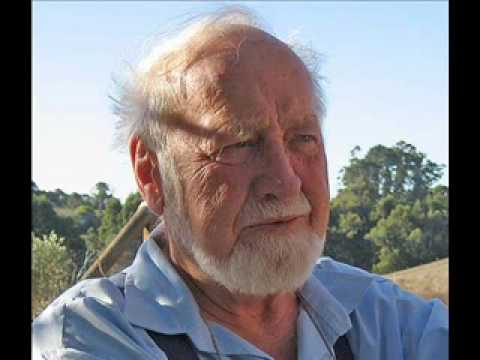 Happy International Permaculture Day 2012! www.permacultureday.info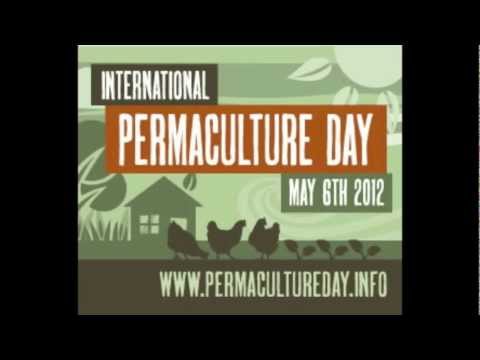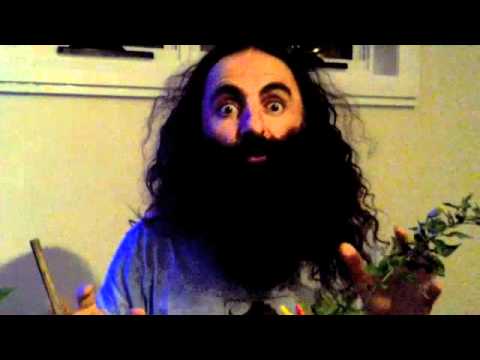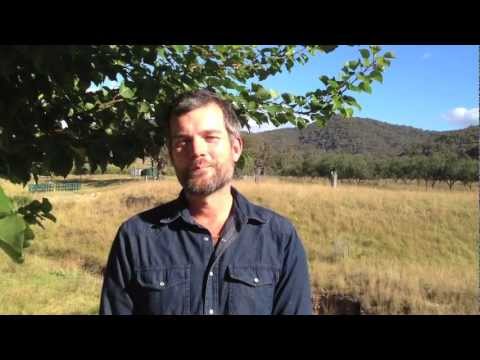 International Permaculture Day – is a day where a range of Permaculture events occur across Australia and around the globe. All activities are held on Sunday May 6 unless specified otherwise.
All of us would acknowledge our own work as modest; it is the totality of such modest work that is impressive. Great changes are taking place. Why not join us in the making of a better future.
Ingenio Patet Campus. The field lies open to the intellect.
Bill Mollison
2 May 2012
Sources: Jeff Nugent's audio DVD of the Stanley, Tasmania, Bill Mollison 1983 PDC, In Grave Danger of Falling Food and the permies of occupy-wallstreet.com
Permaculture at Occupy Wall Street
Confrontation of the criminal class responsible for the corporate coup of the US, is vital and long overdue. But there is also a need to take responsibility and design intelligent, local strategies, to prevent the same problems of scale from repeating themselves. The notion of self sufficiency is key. We can only properly protest something, when we have reduced our dependancy on it. Permaculture offers a vast resource of practical solutions for sustainable, self sufficient living. Permies were sure not to miss the exciting opportunity to share their knowledge with those who can use it most.
http://www.occupy-wallstreet.com/permaculture/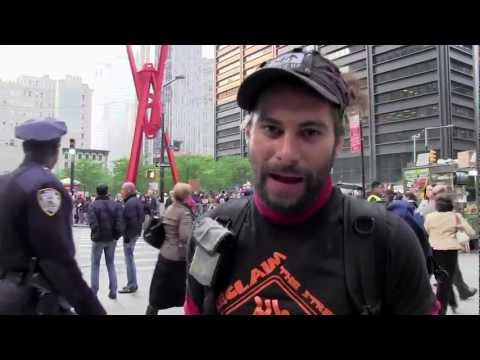 I can't express how happy it makes me to learn that the implementation of sustainability and permaculture principles is spreading to many Occupy encampments –and spreading with the same momentum as the Occupy Movement itself.

Many of the Occupy encampments have set up committees to analyze their own environmental impact, and conceive of practical solutions. Since Mobile Design Lab first installed a grey water system (more below), sustainability committees in different parts of the country have introduced peddle powered generators, solar panels, bike sharing programs and permaculture workshops. There are also pottery classes, as part of an effort to reduce waste in the form of discarded Styrofoam. There are even long term projects, such as composting and gardening.

What is happening is bigger than Permaculture, even bigger than Sustainability: it is real Democracy. OWS is proving that we, the 99%, are perfectly capable of creating our own, truly democratic systems. We are very efficient when it comes to getting things done, when we decide to take care of business ourselves. We are proving that horizontal organization works great. Change doesn't need to be squeezed through a hierarchical bottleneck; nor does it need to trickle down to us, we can do it together. Via Permaculture Occupy Wall St & Campus Progress
http://www.vimeo.com/30401811
Bill Mollison Permaculture Design Course 1983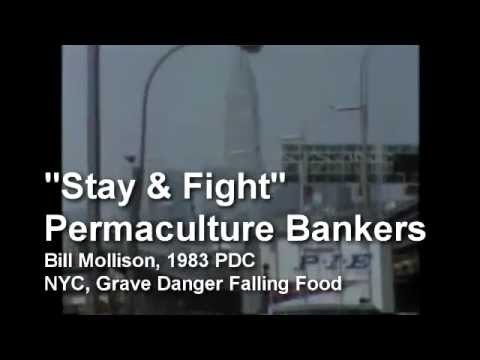 "Hunger is rising, absolute hunger is rising, food's badly distributed, not distributed at all often. The waste of food, the whole deal of it….its eh, a shocking situation, it's just inhuman. It's what nobody would intend, and somehow what we've arrived at, and we arrived at it by the erection of financial structures, totally divorced from resources. So that the fiscal economy has been a runaway system. We've gotta tackle that head on. That is, what I'm trying to tell you, it's no good any longer just being an organic gardener or farmer, we have to be effective financial and political units. And we're gonna have to face that. Just as it was very hard for us to learn to garden, then hard for us to learn to collect seeds, once the multinationals took over the open-pollinated seed market; we had to become seed growers. Now its very difficult, we have to become bankers.There's no good trying to pretend we don't have to. We can run away to the bush, build a mud hut and grow ducks in the garden, it's not gonna do it. The coals will still be burnt, the land will still be eroded, and the forests will still be cleared for newsprint if we run away to the bush. So, there's no escape, we've just gotta stop running away, stay where we are and start to face up and fight." 1983 pdc bill mollison
Courtesy of www.Seedsavers.net more videos at http://www.youtube.com/user/seedsavers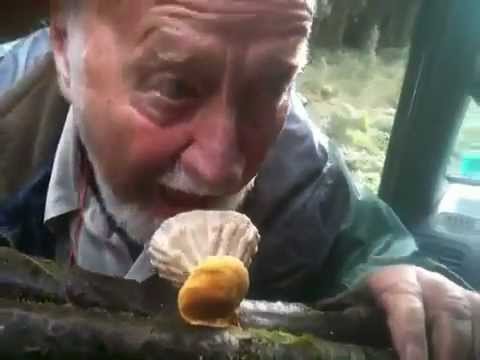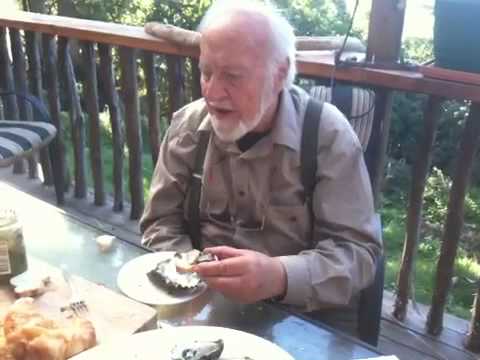 Permaculture is a concept pioneered by Australian Bill Mollison and literally means "permanent agriculture". His model of biological diversity and complementary agricultural practices promotes a sustainable environment via the interplay of natural ecosystems. Permaculture has gained a huge international following with the publication of his book Permaculture: A Practical Guide for a Sustainable Future. Permaculture has become the mainstay philosophy of the organic movement. Mollison's vision, which borrows from Masanobu Fukuoka's "One Straw Revolution", intelligently combines the factors of site location, recycling of by-products from farming and forest activities, species diversity and biological succession.

When gourmet and medicinal mushrooms are involved as key organisms in the recycling agricultural and forest by-products, the bio dynamics of permaculture soar to extraordinary levels of productivity. Not only are mushrooms a protein-rich food source for humans, but the by-products of mushrooms cultivation unlock nutrients for other members of the ecological community. The rapid return of nutrients back into the ecosystem boosts the life cycles of plants, animals, insects (bees), and soil microflora.
Source: Fungi Perfecti, Paul Stamets
Mother Earth News Interview
PLOWBOY: And did all your contact with the wilds have any effect on your perceptions of our modern agricultural system?

MOLLISON: Oh yes! Everything I did, either in research or in fieldwork, indicated that there was something fundamentally wrong with modern farming methods. For instance, every problem I found in commercial agribusiness was actually caused by the industry itself. Usually — when a farmer called in the CSIRO for a consultation — the results of our investigation pointed the finger straight at the grower him- or herself!

As I saw the same situation occur time and time again, I gradually came to the conclusion that most contemporary crop-raisers must be doing things the wrong way. So my last few years with the CSIRO were spent in the forest, observing the plant and animal species on location . . . and there I learned that everything in nature is self -controlled and self -balancing.

You know, a lot of modern thought suggests that the planet — as a living organismic — seeks to protect itself by rejecting any species that causes it harm. For instance, if cattle damage part of the earth, the harmed region will respond by growing thorn bushes and poisonous plants, thus rejecting the animals. Well, I think we — the members of the human race — are perilously close to being rejected by the earth in that same way . . . and quite rightly so, since we've created some terrible damage.
Source: Mother Earth News
While researching a Permaculture Cooperative [blog] [video] in the summer of 2009 we visited Mondragon Cooperative [video] [photos] [blog] and enjoyed a day-tour of the cooperative, which included a factory tour and a lunch, history and business workshop. This video presentation includes an oral history from the days of the founder Don José María Arizmendiarrieta as the oldest farmers son and revolutionary journalist to the modern cooperative. Photos of the cooperative headquarters, the historical museum and the town of Arrasate.
Photo Credits: Kirstie Stramler and Nicholas Roberts
The oral history if given by Mikel Lezamiz who is the educational director of the Mondragon Cooperatives Corporation, the world's largest consortium of worker-owned businesses located in the Basque Country of Northern Spain. Lezamiz is one of the most knowledgeable sources on the history and current operations of Mondragon's 120 worker-owned businesses.

We went to Mondragon to research a Permaculture Cooperative: a global network of sustainability worker cooperatives. The Mondragon Permaculture.TV collection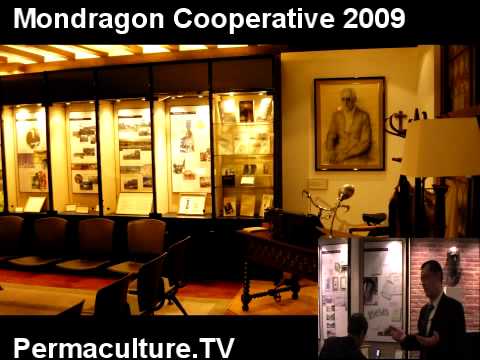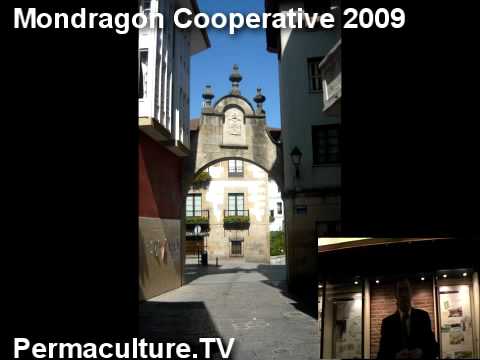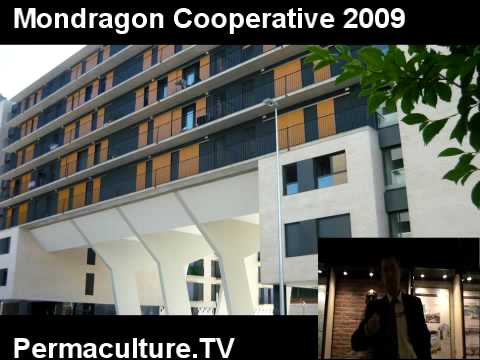 To jumpstart US job market, turn workers into owners
Many Americans build wealth through their home. Why not through work?
In hard times like these, the co-op model makes sense. After all, public confidence in corporations, banks, and the larger financial system is at low ebb, while unemployment is at its highest level in 25 years. Homeownership, historically a reliable way to build equity, has been rocked by foreclosures. People are looking for other ways to do business and save money.

Many people think of co-ops as the hippie-dippy grocery store that sells organic goods. In fact, a 2009 study by the University of Wisconsin Center for Cooperatives found more than 29,000 cooperatives in the US, which make $500 billion in annual revenue, support 83,000 people, and pay $25 billion in wages and benefits. They include national firms such as credit unions, and local businesses such as the Alvarado Street Bakery in Petaluma, Calif., or the Evergreen Cooperative Laundry in Cleveland.
Source: Christian Science Monitor
Bringing Mondragon to America
by Chris Lindstrom on September 09, 2009
These core principles help provide the cooperative members with basic guidelines for working together in a cooperative environment, to commit themselves to personal development, teamwork, participatory management, joint projects, social entrepreneurialism, and finally, corporate excellence. The role of the Management Model is not just to make managers responsible for the success of their cooperative, but how to get workers to take on this responsibility and enthusiasm as well. It is not my impression that they have achieved this 100%, but I think that for an industrial community, they have perhaps set the highest standard for honoring worker rights than any other place in the world. However, this remains only to exist within the Basque region and has not spread in any major way to the multitude of companies that have come under MMC ownership in the past couple years.

The MCC claims that they are being very mindful of the environment by doing things such as reducing their carbon emissions in all of their cooperatives. While, in certain areas they were undoubtedly far ahead of countries such as the US, they were not quite as active in areas of sustainable agriculture. Agricultural production as a commercial sector simply was not as much of a priority as residential goods or the retail of non local food products. So it can be safely said that the MCC is by no means perfect. However, it provides one of the most sophisticated institutional examples of a truly egalitarian and socially just economic system.
Source: Economics of Peace
Mondragón and the United Steelworkers/ New opportunity for the co-op and labor movements?
B Y E R B I N C R O W E L L
Here in the U.S., we have sewn many of the seeds of such a cooperative economy. For example, food co-ops have been partners in the success of worker co-ops Equal Exchange and Alvarado Street Bakery. Food co-ops and others have created loan funds, such as the Cooperative Fund of New England and Northcountry Cooperative Development Fund, that support cross-sector co-op development. We have worker co-ops that have integrated union representation, such as Collective Copies, and examples of multi-stakeholder co-ops, such as Weaver Street Market and FEDCO Co-op Seeds, that bring workers and consumers together within a single enterprise. We have international management training programs such as the St. Mary's University Master of Management: Co-operatives and Credit Unions, and cross-sector organizations such as the National Cooperative Business Association. And we have a growing awareness that "co-operation among co-ops" is not just a principle but a key competitive advantage.

In this context, the agreement signed by Mondragón and the United Steelworkers is much more than a piece of paper. For unions, it's a new opportunity to explore the human and economic potential of cooperative ownership, rather than settling for adversarial relationships with capitalist enterprises. For worker co-ops, this may be an opening to deepen solidarity with organized labor through new and innovative structures. And for the cooperative movement as a whole, we have an opportunity to reassess our assumptions about the role of workers, the meaning of membership, and the potential for engaging employees in nonadversarial settings characterized by shared ownership.

Multi-stakeholder co-ops, highlighted by Mondragón's astonishing success, would seem to offer a promising area for exploration among co-ops in the U.S. These structures contribute a uniquely cooperative approach to labor relations that would strengthen our competitive advantage in an increasingly challenging global economy.
Source: Cooperative Grocer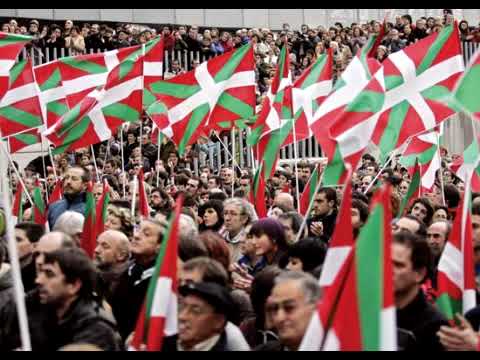 Mondragon Permaculture with Bill Mollison
In the Mp3 audio of Bill Mollison 1983 PDC (Permaculture Designers Certificate) in Stanley,Tasmania (Geoff Lawton attended) that are available as DVD for sale and on the internet, Bill Mollison talks at length about the Mondragon Cooperative (along with Commonworks etc) as an organisational framework – a natural order of People Care and Fair Share for Earth Care that permaculture projects ought use.

I actually found and listened to these Mp3's just before we went to Mondragon (such is life!). We really did Build The Road as We Travel (the only book on Mondragon that we saw on tour). Also, re-reading the Permaculture Designers Manual 1988 he has a couple of references again to Mondragon in the Alternative Nation section towards the end of the book.
Source: Permaculture.coop – Notes on Mondragon & Permaculture, GaiaPermaculture.com
Darren Doherty gives the very last Tagari PDC delivered to a Permaculture Sydney North organised group in Bega Australia.
Darren Doherty delivers a Community Supported Agriculture Tagari certified PDC (Permaculture Designers Certificate) to a class organised by Permaculture Sydney North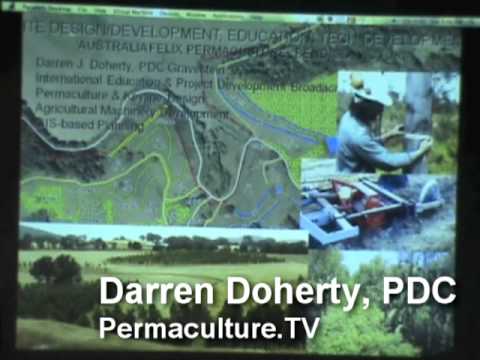 Darren explains his family permaculture, keyline, and holistic management business, Felix Permaculture and Regenerative Agriculture (RegenAG)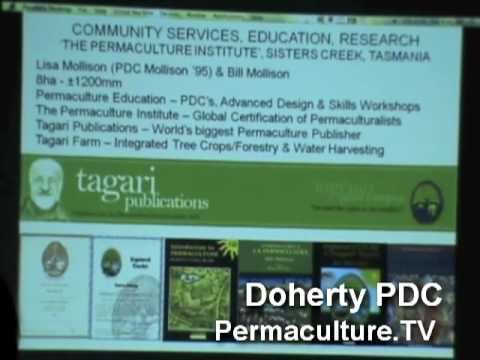 Darren profiles Permaculture co-founders Bill Mollison and David Holmgren; Tagari or The Permaculture Institute of Bill and Lisa Mollison in Tasmania and also David Holmgren's business in Victoria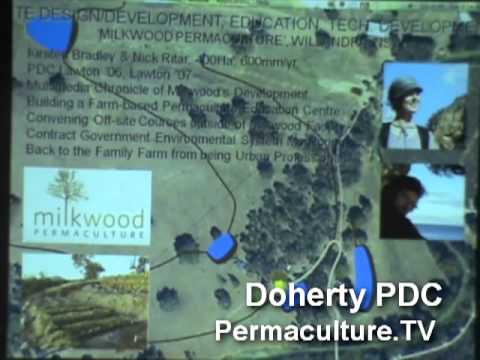 Darren profiles Milkwood Permaculture, co-founders of Regenerative Agriculture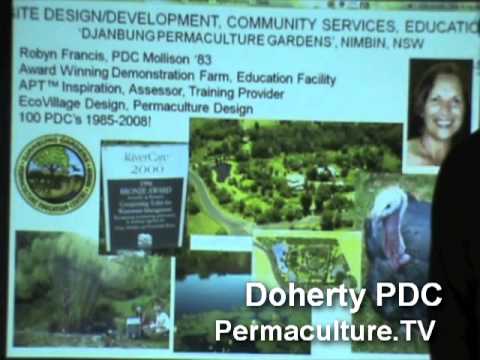 Darren profiles permaculture pioneer Robyn Francis of the Permaculture College of Australia, former editor of Permaculture International Journal and co-founder of Accredited Permaculture Training (APT) Nimbin Australia
Filmed by Chris Wallis and Lachlan Storrie of Hunter Valley-based Tree Frog Permaculture
Filmed for Permaculture.TV courtesy of Permaculture Sydney North and Darren Doherty
Bill Mollison founder of permaculture on tree-systems as lakes
APC10 or the Australian Permaculture Convergance 10 is in Cairns September 24-27 2010.
Keynotes Hollywood star and environmentalist Daryl Hannah, Major General Michael Jeffery, former Governor General of Australia, father of permaculture Bill Mollison, Costa of SBS TV's Costa's Gardening Odyssey, Mexican sustainability entrepreneur Eugenio Gras, Petra Schneider of IDEP Foundation and many others.

Daryl Hannah and Paul Watson, behind the Sea Shepard ship Steve Irwin

Daryl Hannah's Farm
Uploaded by tanjentsdotcom.
Daryl Hannah Interview – Designing the New World from Alexander Mendeluk on Vimeo.

Daryl Hannah in Bladerunner
About the Convergance
Our chance to get together to discuss Permaculture in depth, improve our skills, share our expertise and explore new interests with like minded peers. We will also discuss issues concerning Permaculture training and the networking required for the movement to maximize its influence and involve Permaculture in initiating powerful change in Australia. By the end of the conference we will have the backbone of a document – a resource for us all to help us manage change.

Our discussions will be more detailed and in depth and will assume you are familiar with the basic principles of Permaculture. This 2 day segment of our 4 day event is aimed at members of the Permaculture community, usually people with a completed Permaculture Design Course(PDC) or recognised equivalent.
Source: APC10
About Daryl
As a video blogging (vlogging) pioneer, Daryl created the sustainable living video blog, and website dhlovelife. www.dhlovelife.com deals with sustainable solutions and features weekly five-minute inspirational video blogs, daily news updates, alerts, community and access to goods and services. Dhlovelife.com has a large avid consistent group of viewers and unique visitors.

Daryl Hannah has been passionate and committed to practicing a low impact lifestyle for over 20 years. From her small footprint, passive and active solar home complete with grey water systems and organic garden, to being an early adaptor of biofuels, Daryl Hannah has been actively spreading the good news of how well it all works and how good it all feels.

Among some of her most memorable films, many have become classics such as Blade Runner, The Pope of Greenwich Village, Splash, Roxanne, Steel Magnolias, Wall Street, Grumpy Old Men 1 and 2, as well as the Kill Bill series Vol 1 and 2.

Daryl has worked with Woody Allen, Neil Jordan, Fred Schepisi, Oliver Stone, Robert Altman and John Sayles to name a few. Her first strong impression on audiences came when she was cast as the acrobatic android, Pris in Ridley Scott's science fiction classic Blade Runner.
Source: APC10, Speakers
Detailed notes on he permaculture concept in the video In Grave Danger of Falling Food by Bill Mollison, from Green Change, Australia
(00:00) we haven't earned the right to go to the stars yet
"You wouldn't welcome anybody who'd laid waste to their house and wanted to live in yours."
some background/bio on Bill Mollison – was once a tree cutter!
at one stage, Bill walked away from society "disgusted with the human race", but he returned after a few weeks, having decided to fight to improve things in a positive way
forest as a model of a working system
diversity makes the system highly adaptable and at the same time highly productive
"If we lose the universities we lose nothing. If we lose the forest we lose everything."
all political systems (and most kings) through history have moved their countries towards desert
the ideas behind permaculture arose out of questions that had been asked by people in the 1890s, 1930s, 1960s about why society, with all its tools and resources, keeps falling into holes of its own making
permanent agriculture = permanent culture
we should build with living resources, not steel and glass
notes continue Green Change

Source: Green Change