Rob Hopkins "Local Food" – Book Launch
Source: Positive TV
4 Sep 2009
My Introduction to 'Local Food: how to make it happen in your community'
September 17th sees the release of the first in a series of 'how to' books published under the imprint of 'Transition Books' (due soon, guides to money, working with local government and cities).  Entitled 'Local Food: how to make it happen in your community' it is the work mainly of Tamzin Pinkerton (who was recently interviewed here at Transition Culture) with bits from me, and it is really quite brilliant.  Rather than being an intellectual exercise, it is really about the nitty gritty of setting up local food projects, drawing largely (but by no means exclusively) from the successes and failures of Transition initiatives around the world.  It is packed with examples, tips, links, ideas and inspiration for rebuilding food resilience where you live.  'Local Food' is available from Transition Culture (and elsewhere) from September 17th, but you can preorder it now, and be among the first people to get a copy!  To give you a taste, here, in full, is my introduction to the book.  There will be two book launches, one in Totnes on October 1st, and another in London, to be confirmed.  I'll keep you posted.
Echoes of a more resilient past.  By Rob Hopkins.
Local Food: How to Make it Happen in Your Community
| | | |
| --- | --- | --- |
| For UK orders: | Europe: | Rest of World: |
For bulk orders contact Transition Books.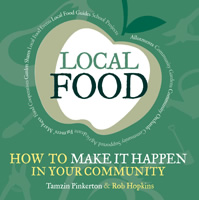 Local Food: How to Make it Happen in Your Community
by Tamzin Pinkerton and Rob Hopkins
192 pages in two colours, 220 x 220mm
Published by Green Books
Local Food provides inspiration and practical advice for creating local food initiatives – showing how to restore and establish community networks to generate healthy, locally produced food.
Many people already buy their vegetables as locally as possible, eat organic and seasonal food when they can, and are perhaps even getting to grips with managing an allotment. However, with current economic pressures and mounting concerns about climate change and peak oil, there is a growing feeling that we need to do more to reduce dependence on the global market.

Local Food offers an inspiring and practical guide to what can be achieved if you get together with the people on your street or in your village, town or city. It explores a huge range of local food initiatives for rebuilding a diverse, resilient local food network – including community gardens, farmers' markets, Community Supported Agriculture schemes and projects in schools – and includes all the information you will need to get ideas off the ground.
Drawing on the practical experience of Transition initiatives and other community projects around the world, Local Food demonstrates the power of working collaboratively. In today's culture of supermarkets and food miles, an explosion of activity at community level is urgently needed. This book is the ideal place to start.
You can read Rob Hopkins' introduction to the book here.